Claudio Palmieri
BIOGRAFIA
Claudio Palmieri nasce a Roma il 25 febbraio 1955. Nel corso dei suoi studi assume particolare rilievo la figura di Mino Delle Site, pittore futurista della seconda generazione.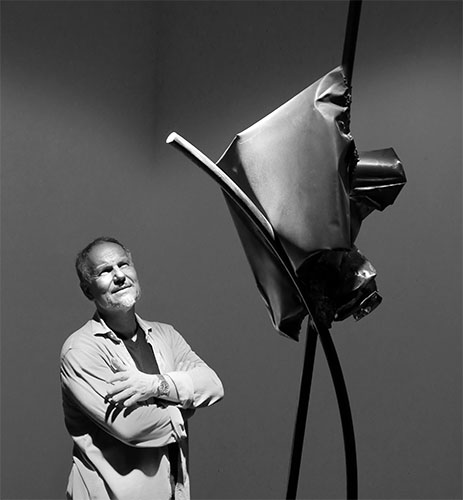 Nell'aprile del 1985 esordisce alla galleria L'Attico di Roma nella mostra "Tre pittori inediti". Il 21 settembre è nella collettiva "La Nuova Scuola Romana" alla galleria Bleich-Rossi di Graz. Nell'ottobre dello stesso anno tiene la sua prima personale, ancora all'Attico ; a dicembre partecipa ad "Arte in cornice" nella stessa galleria.
Queste occasioni segnano l'inserimento definitivo di Palmieri all'interno di quel gruppo variamente denominato come "Nuova Scuola Romana", "Scuola di Via del Paradiso", ruotante attorno alla galleria diretta da Fabio Sargentini . Nel febbraio 1986 è presente a "Forum" alla fiera di Zurigo, con la galleria L'Attico e inaugura la personale presso l'Annina Nosei Gallery a New York. A giugno è ad "Aperto" all'interno della XLII edizione della Biennale di Venezia ; partecipa anche a "A Contemporary View of Nature", presso The Aldrich Museum of Contemporary Art, Connecticut, inauguratasi il 6 dicembre, dove espone Collina nera.
La presentazione di una nuova stagione creativa di Palmieri avviene ancora all'Attico nella personale che si inaugura il 16 marzo.
A febbraio è in "Under 35" ad Arte Fiera di Bologna. A Spoleto, alla Chiesa di san Nicolò, si inaugura il 1 luglio la mostra "L'Attico 1957-1987", nella quale Palmieri presenta Grande alone rosso del 1987. A dicembre si inaugura all'Attico la seconda personale dell'anno, nella quale Palmieri espone un ulteriore aspetto della sua attività, quello scultoreo. Il 28 maggio 1988 è a giugno in "Geometrie dionisiache" alla Rotonda della Besana di Milano, ricognizione sulla giovane scultura italiana. Partecipa contemporaneamente anche a "Arte, il pieno e il vuoto", a Palazzo Corsini ad Alessandria e ad "Astratta" alla Galleria Comunale d'Arte Moderna - Palazzo Forti di Verona .
E' presente a Roma alla collettiva "Bello o brutto, mi fido solo dei miei occhi", curata da Fabio Sargentini all'Attico con due grandi sculture in metallo e plastica.
Nel febbraio 1989 è in "Materialmente - scultori degli anni ottanta" alla galleria Comunale d'Arte Moderna di Bologna.
Una sua opera è acquisita dalla stessa Galleria ed esposta nella relativa mostra, a dicembre. Partecipa inoltre, insieme a Corsini, Nagasawa, Nunzio e Riccio, a "Omaggio a Brancusi", mostra a tema ideata dall'Attico di Roma. A luglio la Galleria di arte moderna di Spoleto acquisisce la scultura "Compenetrazione", esposta nella mostra "Nuove acquisizioni". Nel1990 Il 15 settembre partecipa alla "IV Biennale d'Arte sacra" a Palazzo Montuori di Pescara.
Numerose sono le partecipazioni a mostre collettive durante l'anno 1991, a dimostrazione del rinnovato interesse che circonda la ricerca di Palmieri. E' con la galleria L'Attico di Roma ad "Attualissima" - all'interno della Fiera d'arte Contemporanea alla Fortezza da Basso di Firenze; alla Pinacoteca di Cento espone in "L'Arte di Fine Secolo - magico Primario, una revisione", riproposizione con varianti di una mostra realizzata nel 1981 da Flavio Caroli.
A Marzo è in "Quaternaria" alla Fiera di Roma. Il 28 maggio si inaugura a Bologna la sezione 'Pittura' di "Anninovanta", all'interno della quale Palmieri presenta quattro grandi dipinti. Ancora quell'anno, un'opera è acquisita dal Centro per l'arte Contemporanea alla Rocca di Umbertide, ed esposta nella relativa mostra "La collezione". Ad ottobre è segnalato da Paolo Levi in "Capital", Milano, in una ricognizione sugli artisti emergenti del panorama nazionale. La stagione si chiude con un'importante personale presso la Galleria Arte 92 di Milano, inauguratasi il 5 Dicembre. Nel 1992 un'ampia dichiarazione di poetica è pubblicata in "Iconostasi" (Urbino, gennaio-aprile 1992, a. I, n. 0), accompagnata da numerosi disegni: il filo conduttore dello scritto e delle immagini è l'incontro di Palmieri con la scultura di Leoncillo, momento determinante nella evoluzione della sua concezione scultorea. In luglio espone Un metro cubo di mare - Omaggio a Pascali e Rosa dei venti in occasione di "Ritorno al mare", mostra collettiva organizzata da Rosalba Branà e da Fabio Sargentini a Polignano a Mare.
Il 21 marzo si inaugura alla Palazzina dei Giardini di Modena, organizzata dalla Galleria Civica, la prima personale in uno spazio pubblico curata da Flaminio Gualdoni dove presenta 50 tra sculture e dipinti inediti e realizza un'installazione in ceramica nell'aiuola antistante la palazzina. Nel 1993 inizia la stagione con una personale di pittura alla galleria ARTE 92 di Milano, seguita da un'altra personale nella galleria OTTO di Bologna. Nello stesso anno la personale "Porta d'Oriente", nella galleria ZELIG di Bari.
Nel 1994 partecipa a molte collettive, come "Raccolta del disegno contemporaneo", alla Galleria Civica di Modena e "Capolavori contemporanei", al Centro per l'Arte Contemporanea di Umbertide, dove espone "schermo". Nello stesso anno Importante è la partecipazione alla XXXII Biennale Nazionale d'Arte Città di Milano.
Nel 1995, oltre alle numerose collettive, è presente anche al XVIII Premio Città di Gallarate, Milano, e al XXVIII Premio Vasto. Nel 1996 realizza un'opera scultorea permanente nel Comune di Casacalenda in occasione della manifestazione
Kalenarte '96. La stessa esigenza lo porta in questi anni a sperimentare la fusione tra suoni e scultura, creando insieme al jazzista Maurizio Giammarco "HARDWARE", una performance di sax e quindici sculture di metallo da lui stesso suonate, in un originale intreccio espressivo. La performance verrà presentata in diversi teatri di Roma e in diretta su RAI RADIO TRE nel 1997. Partecipa al 48° e al 49° Premio Michetti, a Francavilla a mare. Alcune opere sono esposte in permanenza nei seguenti musei: Galleria d'Arte Moderna di Spoleto; Centro per l'Arte Moderna di Umbertide; Museo d'Arte Contemporanea Castello di Masnago, Varese. E' presente alla XII Quadriennale di Roma. Nel 1997 partecipa al Premio Marche, Ancona ed è vincitore della seconda edizione del Premio Umberto Mastroianni a Torino, per la realizzazione di una scultura monumentale in bronzo. Nel novembre dello stesso anno realizza una personale alla Galleria Spazio Blu di Roma, con opere su carta inedite. Nel 1998 installa la scultura monumentale "Vesta", in marmo e bronzo, nella centrale piazza Lodi, a Roma.
Nel 2000 espone alla Galleria Comunale di Arte Moderna e Contemporanea di Roma nell'ambito della serie di mostre denominate "Lavori in corso n° 9", a cui segue l'acquisizione di un'opera polimaterica, e dove propone ancora "Hardware – Sax-sculture", la sua performance sonora. Lo stesso anno partecipa alla seconda edizione della mostra collettiva Periplo della scultura contemporanea, esponendo nel Museo della Scultura Contemporanea di Matera un'opera poi acquisita dal museo stesso.
Nel 2001 Palmieri partecipa all'importante mostra itinerante La scultura italiana del XX secolo, curata da Anna Imponente, che tocca diversi musei giapponesi (Yokohama Museum of Art, Kagoshima City Museum of Art, The Museum of Modern Art di Ibaraki, Museum of Contemporary Art di Sapporo e lo Shimane Art Museum). Qui presenta la scultura Logos, realizzata in ferro e ceramica.
Nello stesso anno espone alla galleria Valentina Moncada con José Maria Sicilia. Il 23 febbraio 2002 Palmieri dà vita ad una nuova performance di HARDWARE SaxSculture in occasione della mostra InmateriaLE MIMESI tenutasi a Villa Vercelli Cavriani a Mozzacane (VR), che viene in seguito trasmessa via web.
Nel maggio del 2002 Claudio Palmieri presenta per la prima volta le sue fotografie in una mostra personale, Scatto Continuo, organizzata dalla galleria L'Attico all'interno di "FotoGrafia – Primo Festival Internazionale di Roma.
Nel luglio del 2002 partecipa alla mostra Arte Salute e Lavoro: evento d'arte e comunicazione a Guidonia (RM).
Nel 2006 espone all'Associazione Culturale TraleVOLTE di Roma una serie di sculture costituite da intrecci di fili di acciaio e grumi di ceramica colorata, che danno vita a uno straordinario intervento dal titolo Filo volante.
La ricerca verso una dimensione ambientale della scultura, aperta alla integrazione di aspetti visivi, tattili e sonori prosegue in altre opere del 2007, come Natura Antropomorfa e Presepe Celeste.
Esemplari sono le opere della mostra del novembre 2007 alla Galleria Arte 92 a Milano, dove ben si evidenzia l'ulteriore stimolo per un valore sinestetico dei linguaggi.
Nel 2007, in occasione dei 50 anni della galleria l'Attico, Fabio Sargentini incarica il maestro di realizzare una performance dal vivo che possa celebrare l'importante anniversario. Dipinge in poche ore, una enorme tela davanti al pubblico dei visitatori dell'inaugurazione, tela che riproduce il manifesto Anni Lunari creato dallo stesso Palmieri. Continua é la collaborazione con il "Teatro" presente all'interno della galleria stessa, alle cui messe in scena Palmieri collabora regolarmente.
L'aspetto performativo è centrale anche nel dialogo con la musica, che si approfondisce in questi anni: nell'intrecciare il suono del sassofono e delle manipolazioni elettroniche di Giammarco con le sonorità derivate dalla percussione e dalla "provocazione" delle proprie sculture metalliche. Palmieri si ritaglia un inedito ruolo di musicista-performer. Un'altra esibizione per Claudio Palmieri ha luogo presso il Teatro Nuovo di Spoleto (PG) l'8 dicembre del 2008. Oltre a partecipare a diverse collettive, nel 2008 realizza un altro monumento a Trieste, presso la Capitaneria di Porto, a seguito di un concorso pubblico. La scultura, dal titolo Ankos, rappresenta un'ancora bronzea di 7 metri, pensata e realizzata in una composizione modulare composta da più elementi simbolici.
Il 3 ottobre 2009 un'altra istallazione permanente è commissionata dall'Associazione Culturale TraleVolte nel giardino del convento dei Passionisti alla Scala Santa a Roma. Giardino sospeso, composta da tre istallazioni distinte. Nel 2010 espone lavori in cera su carta nella collettiva À la carte alla galleria L'Attico di Fabio Sargentini, in cui compaiono anche le opere di Maurizio Corona, Jean Fautrier e Mark Tobey. Nel 2012 espone presso la galleria Limenotto9cinque di Roma nella personale Claudio Palmieri, la mano, la testa, il cuore, curata da Roberto Gramiccia. In questi anni, oltre a varie mostre collettive, Palmieri intensifica la ricerca pittorica, fotografica e scultorea intensificando la ricerca agli effetti luministici, facendo uso della cera fusa e di colori fosforescenti e fluorescenti.
Nel maggio 2014 realizza il busto in creta di Pasolini durante una performance dal vivo nell'ambito di un omaggio collettivo al poeta-regista, nel suo ex atelier nel quartiere Pigneto di Roma.
Nel 2015 "Naturalmente" una importante personale al Museo Bilotti di Roma, una antologica sul tema della "Natura" vista da Palmieri in 30 anni di ricerca; Sempre nel 2015 " C'è chi dipinge" collettiva alla Galleria L'Attico di Roma; Nel 2017 " Il cammino delle Certose. I percorsi dell'anima" alla Certosa di San Lorenzo di Padula, ( SA). Nel 2018 in occasione dei festeggiamenti dedicati ai 60 anni della Galleria L'attico è presente nella storica collettiva " Scorribanda" al Museo Nazionale di Arte Moderna di Roma, con un'opera di 4 metri del 1985.
Sempre nel 2018 importante mostra " La Luce Diversa ", Museo Mattatoio ex Macro Testaccio di Roma. Nel 2019 è nella collettiva " Arte Accidentata" Galleria l'Attico di Roma. Nell'estate "Vesuvio quotidiano Vesuvio Contemporaneo" Certosa di San Martino a Napoli; 70° Premio Michetti, Francavilla al Mare,CH. Certosa di San Martino "Verso l'Aleph di Napoli"Napoli.
Claudio Palmieri
BIOGRAPHY
Claudio Palmieri was born in Rome on February 25th, 1955. During his studies, the figure of Mino Delle Site - a futuristic painter of the second generation and a professor of Palmieri at the Art School of Rome had a great importance.
In April of 1985, he made his debut at the Attico Gallery of Rome with the exhibition "Tre pittori inediti." On September 21st he exhibited in the collective show "La Nuova Scuola Romana" at the Bleich-Rossi gallery in Graz, Austria. In October of the same year, he held his first personal exhibition, still at the Attico Gallery; in December, he took part in "Arte in cornice," in the same gallery. These occasions mark the definitive insertion of Palmieri within the group variously referred to as "Nuova Scuola Romana" or "Scuola di Via del Paradiso," which revolved around the gallery directed by Fabio Sargentini.
Palmieri exhibited paintings of rather large dimension (Fiore scarlatto, Natura morta, Campo di papaveri, Campo di girasoli, cartoccio grigio.) In February of 1986, he was present at "Forum" at the Zurich fair - with the Attico Gallery - and he inaugurated his solo exhibition at the Annina Nosei Gallery, in New York, where he introduced, among others, Girasoli d'Agosto, Collina nera (1986), and Cartoccio bianco (1985). In June, he was present at "Aperto," within the Venice Biennale; he also participated in "A Contemporary View of Nature" at the Aldrich Museum of Contemporary Art, in Connecticut, which was inaugurated on December 6th and where he exhibited Collina nera. The presentation of a new creative season for Palmieri was once again initiated at the Attico Gallery with his personal exhibition which opened on March 16th 1987, and wherein Palmieri exhibited his new works. In February, he took part in the "Under 35" exhibition at Arte Fiera in Bologna. In Spoleto, at the Church of San Nicolò, the exhibition "L'Attico 1957-1987". In December, Palmieri inaugurated his second solo show of the year, in which he introduced a further aspect of his talent - the sculptural one.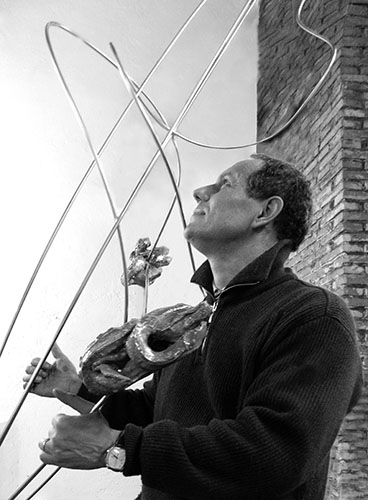 1988 he participated in "Geometrie Dionisiache" at the Rotonda della Besana in Milan, with an exhibit recognizing the young Italian sculpture movement. Contemporarily, he took part in "Arte, il pieno e il vuoto," at Palazzo Corsini in Alessandria and in "Astratta" at the Municipal Gallery of Modern Art of Palazzo Forti in Verona.
He was present in Rome at the collective exhibition "Bello o brutto, mi fido solo dei miei occhi," curated by Fabio Sargentini at Attico Gallery, with two large sculptures in metal and plastic.
In February of 1989, he was in "Materialmente - scultori degli anni ottanta" at the Municipal Gallery of Modern Art in Bologna. One of his works was acquired by the aforementioned Gallery and put on display in the relative exhibition, in December. he also participated in "Omaggio a Brancusi," a themed exhibition organized by the Attico Gallery of Rome. For the occasion, Palmieri realized Obelisco. In July, the Gallery of Modern Art of Spoleto acquired the sculpture Compenetrazione, displayed in the exhibition "Nuove acquisizioni."
On September 15th, he participated in the "IV Biennale of Sacred Art" at Palazzo Montuori in Pescara. Palmieri also participated in numerous collective exhibitions during the year 1991, in demonstration of the renewed interest surrounding his research. He was with the Attico Gallery of Rome in "Attualissima" - held within the Contemporary Art Fair at the Fortezza da Basso in Florence. At the Pinacoteca di Cento he displayed his works in "L'Arte di Fine Secolo - magico Primario, a re-proposal with variants of an exhibition created in 1981 by Flavio Caroli.
On May 28th, the 'Painting' section of "Anninovanta" opened in Bologna, at which Palmieri presented four paintings: Soli circolari, Bocca della verità, Senza titolo and Fiori cadenti (1991).
In October, he was reported on by Paolo Levi in ​​"Capital," Milan, in a survey of emerging artists on the national scene. The season ended with an important solo exhibition at the Galleria Arte 92 of Milan, inaugurated in December . In July, he exhibited Un metro cubo di mare - Omaggio a Pascali and Rosa dei venti, at the Museum Pino Pascali at Polignano a Mare.
On March 21st, at the Palazzina dei Giardini of Modena, Palmieri inaugurated his first solo exhibition in a public space, curated by Flaminio Gualdoni and organized by the Civic Gallery. Here the artist presented fifty works, among which were sculptures and unpublished paintings, along with a unique ceramic installation in the flower bed in front of the building. In 1993, he began the season with a solo painting exhibition at the ARTE 92 gallery in Milan. . It's not an everyday feat." In the same year, he had an important role in the XXXII National Biennial of Art, in Milan.
In 1995, in addition to the numerous joint exhibitions, Palmieri was also present at the XVIII Premio Città di Gallarate, Milan, and at the XXVIII Premio Vasto.
In 1996, he realized a permanent sculptural work in the Municipality of Casacalenda, on the occasion of the Kalenarte '96 manifestation. It is this same necessity for discordance that led him, in those years, to experiment with the fusion between sounds and sculpture, creating, together with the jazz musician Maurizio Giammarco, HARDWARE - a performance of sax and fifteen metal sculptures that he himself played, in an original expressive intertwining. The performance was presented in several theaters in Rome and live on RAI RADIO TRE in 1997. Palmieri participated in the 48th and 49th Premio Michetti, in Francavilla a Mare. Some of his works were permanently displayed in the following museums: Gallery of Modern Art of Spoleto; Center for Modern Art of Umbertide; Museum of Contemporary Art of Castello di Masnago, Varese. He was present at the 12th Rome Quadrennial. In November of the same year, he made a solo exhibition at the Spazio Blu Gallery in Rome, with unreleased works on paper. In 1998, he installed the monumental sculpture Vesta, in marble and bronze, in the central piazza of Lodi, in Rome.
In 2000, he exhibited at the Municipal Gallery of Modern and Contemporary Art in Rome as part of the series of exhibitions called "Lavori in corso n ° 9;" which led to the acquisition of a multi-material work and where he presented once again HARDWARE SaxSculpture, his musical performance. The same year, he participated in the second edition of the collective exhibition "Periplo della scultura contemporanea," exhibiting in the Museum of Contemporary Sculpture of Matera a work then acquired by the museum itself.
In 2001, Palmieri participated in the important travelling exhibition "La scultura italiana del XX secolo," curated by Anna Imponente, which toured several Japanese museums (Yokohama Museum of Art, Kagoshima City Museum of Art, The Museum of Modern Art of Ibaraki, Museum of Contemporary Art Sapporo and the Shimane Art Museum). Here he presented the sculpture Logos, made of iron and ceramics.
In May 2002, Claudio Palmieri presented his photographs for the first time in a solo exhibition, Scatto Continuo, organized by Attico Gallery within the demonstration "FotoGrafia - First International Festival of Rome."
In July 2002, he took part in the exhibition "Arte Salute e Lavoro: evento di arte e comunicazione" in Guidonia (RM), where he presented the installation of irregular glazed ceramics from 1992 (Germination) next to two vertical sculptures in iron and ceramic: Atlantide and Ascesi.
In 2006, at the Cultural Association TraleVOLTE in Rome, he exhibited a series of sculptures made up of interwoven steel wires and colored ceramic lumps, which gave life to an extraordinary presence entitled Filo volante.
The artist's search towards an environmental dimension of the sculpture, open to the integration of visual, tactile and sound aspects, continued with other works of 2007, such as Natura Antropomorfa and Presepe Celeste.
In 2007, on the occasion of the 50th anniversary of the Attico Gallery, Fabio Sargentini instructed the artist to realize a live performance that could appropriately celebrate this important anniversary. In merely a few hours, he painted a huge canvas in front of the visitors present at the inauguration - a canvas that reproduced the Lunar Years poster created by Palmieri himself.
This aspect of performance is central also in his dialogue with music, which deepened in those years: by intertwining the music of the saxophone and the electronic manipulations of Giammarco with the sounds derived from the percussion and the "provocation" of the metal sculptures themselves, Palmieri carved out an unprecedented role as a musician-performer. In the 2007 concert, Saxes (.5) sculptures, designed for the S. Cecilia Saxophone Festival in Rome. Another performance for Claudio Palmieri took place at the Teatro Nuovo in Spoleto (PG) on December 8th, 2008. In addition to participating in various group exhibitions, in 2008 he created another monument in Trieste, at the Port Authority, following a public competition. The sculpture, entitled Ankos, represents a bronze anchor of 7 meters, designed and built in a modular composition composed of several symbolic elements.
On October 3rd, 2009, another permanent installation was commissioned by the Cultural Association TraleVolte in the garden of the Passionist convent at the Scala Santa in Rome: Giardino sospeso. In 2010, again at the Attico Gallery, he exhibited works on paper in the collective showing À la carte, by Fabio Sargentini, which also featured works by Maurizio Corona, Jean Fautrier and Mark Tobey. In 2012, at the Limenotto9cinque gallery in Rome, he inaugurated a personal exhibition "Claudio Palmieri, la mano, la testa, il cuore," curated by Roberto Gramiccia. In those years, in addition to various joint exhibitions, Palmieri intensified his pictorial, photographic and sculptural research, enhancing his research regarding luministic effects and making use of fused wax, phosphorescent and fluorescent colors. In May 2014, he realized a clay bust of Pasolini during a live performance, as part of a collective tribute to that poet-director, which took place in Paolini's former studio in the Pigneto district of Rome.
In 2015, with "Naturalmente" - a personal exhibition at the Museo Bilotti in Rome - he exposed an anthology on the theme of 'Nature' as seen by himself in 30 years of research. Still in 2015, Palmieri was present in the "C'è chi dipinge" collective at the Attico Gallery in Rome.
In 2017, is in the collective "Il cammino delle Certose. I percorsi dell'anima" in the Certosa of San Lorenzo di Padula (SA).
In 2018, on the occasion of the celebrations dedicated to the 60th anniversary of the Attico Gallery, he participated in the historical collective "Scorribanda" at the National Museum of Modern Art in Rome, with a 4-meter work from 1985.
Also in 2018, he is among the three artists of "La Luce Diversa "at the ex-Mattatoio Museum, Macro of Testaccio in Rome.
2019 starts with a group exhibition, "Arte Accidentata", at L'Attico gallery of Rome.